Preparation for trading on Finnish market area
2019-09-13
As of 1 January 2020, Regional Gas Exchange GET Baltic will offer access to spot and forward contracts for the Finnish gas market participants via regional trading platform. Offered services also include implicit capacity allocation (ICA) model application on the Balticconnector interconnection point, price index calculation, REMIT data reporting to ACER, UMM publication platform.
GET Baltic, developing tailor made solutions for natural gas trading in the Nordic-Baltic region, invites Finish gas market participants and other interested parties to get acquainted with the timeline for becoming a member of the Baltic-Finnish Gas Exchange with the access to the Finnish gas market area: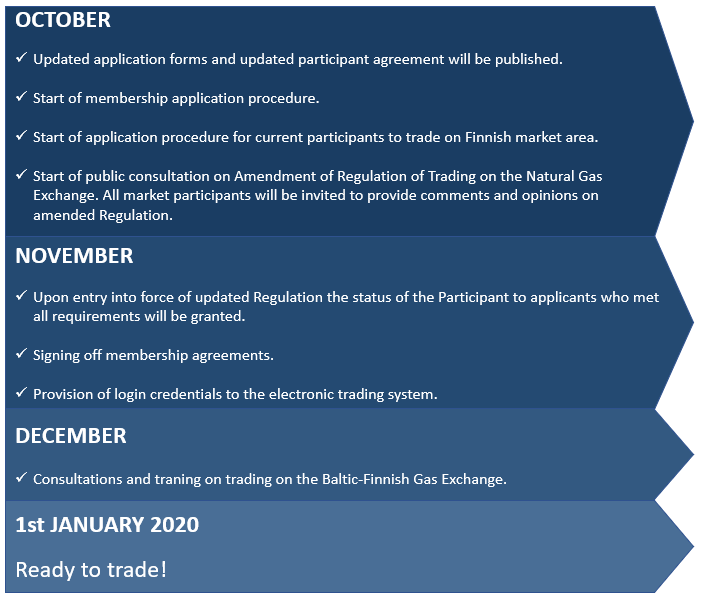 To become a participant of the exchange an applicant must:
Submit a request to grant the status of the participant;
Submit an extract of the entity's main data issued by the Register of Legal Entities;
Submit the copy of contract with natural gas transmission system operator;
Submit the form for selection of the tariff plan.
Once an application to grant the status of the Participant of the Natural Gas Exchange is received, GET Baltic will evaluate the information submitted and will adopt a reasoned decision on granting the Participant's status. After adoption of a positive decision, the applicant will enter into the Natural Gas Exchange Participant's contract and, in order to comply with REMIT regulation, the contract on standard contracts data submission to the ACER Agency. After signing of the agreements login credentials to the electronic trading system (ETS) shall be granted.
Together with abovementioned agreements, GET Baltic welcomes Finnish energy market participant to use other services provided by company, by signing of following agreements comply with Article 4 and Article 8 of REMIT:
Agreement on Reporting of Inside information;
Reporting Service to ACER of Bilateral Contracts Traded Outside Organised Market;
Reporting Service to ACER about each LNG facility.
Detailed information on membership registration process and documents to be submitted can be found here: https://www.getbaltic.com/en/trading/how-to-become-a-participant/, detailed information on other services here: https://www.getbaltic.com/en/sevices/
GET Baltic specialists are ready to guide you through the process and assist with preparation of necessary documents.
All current Participants of the Exchange willing to trade on the Finnish market area will be able to submit applications to trade on Finnish market area from October, Finnish market area will be added to your account from the 1st January 2020.
More information:
Ieva Ciganė
Head of Trading and Product Development
ieva.cigane@getbaltic.com
Tel. +370 636 64354